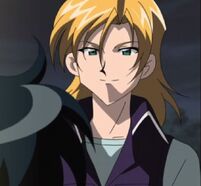 Team Shark Tooth (Team ST) is an MTB team present both in the real world and the X-Zone. Gabu Samejima is the leader of this team. His brother, Taiga Samejima was fired from his place as second-in-command, but regained his post when they returned to their world.
Members of Team ST
Edit
Gabu Samejima (head)
Taiga Samejima (second-in-command)
The Four Kings
Yoko and Rika
Mr Teacher
Shadow
Koei (removed from post)
Captain Jackal
Danny and Pete
Prince Ryota (withdrew)
Sebastian (withdrew)
Joe and Reiu (withdrew)
Jero (withdrew)

Ad blocker interference detected!
Wikia is a free-to-use site that makes money from advertising. We have a modified experience for viewers using ad blockers

Wikia is not accessible if you've made further modifications. Remove the custom ad blocker rule(s) and the page will load as expected.