Koei (孤影, Koei) also known as ninja rider, originaly worked for Gabu Samejima and was amember of Team ST. It is later revealed that he did so because he couldn't afford a doctor for his sister, Kiku. Once Kiku fell in Gabu's clutches, Sho Yamato had to help rescue her. He rides the Idaten Bike Aero Scissors. His special move is the Ninjutsu Hurricane by which he can create a hurricane around him.
Appearance
Edit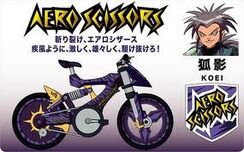 Koei has long, grey frizzled hair which he ties at the back of his head. He wears a green outfit with various pockets that contain an assortment of blades and ninja weapons.
Personality
Edit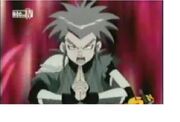 Koei is a kind-hearted, loving brother, though he may seem fierce. He cares for all the younger children, with the exception of Gabu, especially
Ayumu
, as he is the youngest an the closest biker to Koei. He seems to hold a grudge against Gabu, ever since Kiku was kidnapped, until the end of the series. Even so, he helped to find Gabu and
Makoto
when they were locked away even when they escaped perfectly fine themselves. Koei is a smart kind of a person he uses a smoke bomb that contain's medicines and mini mirrors that makes copies of himself and he can also ride on a really thin wire.
Koei, then ninja, worked for Team Shark Tooth in order to earn money to afford a doctor for his younger sister, Kiku. He first appears to stop Sho and company from reaching X City, but fails. He later competes in the Idaten Battle Tournament, hosted by Gabu, and made it to the finals where Gabu kidnaps Kiku to force Koei to win. Koei then defies Gabu's orders, and, together with Sho, they rode out of the biking track to save Kiku. After the rescue, the battle still needs to go on, and in the end, Sho wins the tournament. When Gabu steals the 10 Gold Emblems meant for Sho, Koei aids in helping Sho get the emblems back. When Sho and company return to the X-Zone after being transported back to their world after the Idaten Battle Tournament, he was taken over by the Dark Embelm, but Sho helped to free him. He aids in the help of defeating Team X and while at it, also taught Ayumu to gain control over his bike.
He care about his younger sister Kiku
He seems to be close friends with Arthur.
He was stealing valuables and money before working for Gabu.
His special moves are 'aeroblade tornado' and 'fantasy swirl of flowers'.
His idaten bike is named " Aero scissors ".