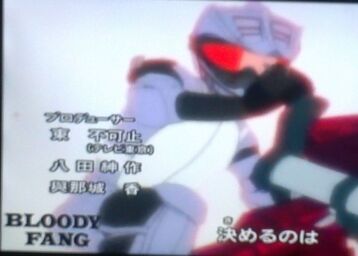 Bloody Fang (also known as Poison Fang) is Gabu Samejima's Idaten Bike
It has been given to Gabu by Takeshi Yamato when he first entered the X-Zone to maintain balance and protect Imperial X. It's special move is Bloody Impact.
Bloody Impact is a move developed by Gabu when he jumps and lands down with full force to create a huge crater of destruction. It also enables him to destroy his nearby surroundings and climb up buildings etc. He alters the usage of the move, depending on the situation.
The bike is of a red shade representing its name, Bloody Fang.
It is one of the most powerful MTB
Bloody Fang represents a wolf, and also attack power, a characteristic which is very important to form the most powerful bike.
Emblem
Wheel Base
1.000
Weight
14.1 kg
Top Speed

140 kmph

Mobility
9
Durability
9
Traction
10
Acceleration
General Purpose
10